Name: Best Profiles
Description: Profile Manager
Summary: I haven't been impressed with too many applications these days normally because they only have one use. Its going to be a mouth full to tell you what Best Profiles can do for your Nokia N96 but ill give it a go. To start with lets go through the basics, Best Profiles will let you chose to change your profile everyday or just the selected days, you can also set up key words and whenever an event happens in your calender that uses that key word it will change to a selected profile. Best Profiles will also use your GSM location to chose a profile (which so far I have only been able to define a country but you mite be able to work or home locations) and of course it can change your profile when you charge your phone. With all this going on it could well happen that your profiles overlap so Best Profiles has a priority setting for each profile change it does. Now lets get onto the good stuff, first for every different profile you can have different wallpapers, Themes and sound notifications. Also upon activation of a profile you can set it to run multiple applications, different backlight settings and even bluetooth activity. All this needs a bit of planning what if you just want a quick change well Best Profiles has the ability to let you activate any profile at a certain time, after a certain time, for a certain time and even lock for a certain time if your not sure what other profile mite activate.
Overview: On its own Best Profiles doesn't seem that much but if you think of the possibilities for example my previous post was power mp3 that could start playing music as soon as it opened so if you set that as the application your profile runs it could be an alarm clock that doesn't stop. Just think what it could do I'm 100% sure that someone will think of an even better use of this application and I would love to hear about it when you do. Unfortunately I have some bad news Best Profiles isn't free its only £6/$10 but I know that it will put most people off which is a shame because it is a good application and one day there will be a time this application will help you.
To Download the trial of Best Profiles go here
For more info go here
If you have come up with anyway this will help you please tell us at the forum
Name: TibiaME
Genre: Massive Online Multiplayer.
Summary: I'm going to be honest and say that I have never heard of this game but it looks like its been around for a good while. TibiaME has been out for a while but their is a spring update and since they only update two times a year its quite big. TibiaME is really "WOW" for the Nokia N96 with thousands of online players, 3,000 different screens of map, 35 different creatures to battle and over 100 items to find. The graphics have to be mentioned because it reminds me of "Pokemon" and I thing that's quite impressive for a phone. Since this game is based online you mite thing that it's going to cost a lot to play but the surprisingly it only uses about 400kbytes an hour.
Overview: In theory its got lots of potential but once again the nokia n96 lets it down with its lack of Internet stability. The other thing that lets the game down is the size of the screen which I'm sure there's a version with a higher resolution but the one they say to download only takes up about half the screen. TibiaME has a free version which has lots of gameplay but the premium only cost 3 euros a month and has lots of benefits. If you like the idea then check the free version but the screen is just too small for me to want it Read more
Name: My Ringtone(1.21),
Description: Mobile Mp3/Ringtone editor,
Summary: There is a few mp3 editor applications and even thought you only need one the problem I found was that many of them didn't work on my Nokia N96. My Ringtone isn't the first one that worked but it was the first one that worked the way I wanted it to. My Ringtone does exactly what you want an mp3 editor to do, find a song, listen to it, edit it and then save. What is good about My Ringtone is that all the buttons need to edit the mp3 and the split timers really help find the exact place to trim. Visually My Ringtone is quite good it has 5 different themes and a nice visualiser, which I know is pointless for an application that your only going to use one or twice a month but the default theme is really ugly.
Overview: Its my dream that one day nokia will incorporate this in there own operating system as like a slider that adjusts the start point because its something so basic but no one really want their ring tone to start from start. My Ringtone does all that you could want but there is a problem and that is that it's not free. Its not that expensive only $5 but if that's too much there is an older version(1.08) that's free. There is a trial for the latest version which I suggest you try it. Read more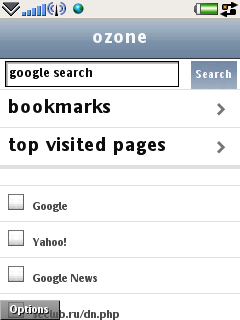 Name: Ozone
Description: Mobile web browser
Summary: There's quite a few mobile web browsers such as Opera, Skyfire, UCweb and now Ozone but which is right for your Nokia N96. Ozone is a serious competitor its more simple interface really gets the best of the screen and the speed is almost unbeatable for any phone web browser. The key features that Ozone has is that it can download any type of file, it also has great scrolling, zooming, tab management and overall performance. The real party piece is that Ozone scores a 94/100 on the acid 3 test which is very high and the only one that even came close to it was skyfire with a 54/100.
Overall: I like it seems fast I mean really fast it makes my favorite web browsers skyfire feel slow and generic. I have one problem and that is the cursor control is so annoying because it moves in squares which is sometimes unusable. As all web browsers its free and is a valuable addition to any phone and I advise you check it out, in my opinion Ozone is the best on paper but I will still be using skyfire. Read more
Name: InvisibleSHIELD
Description: Invisible Phone Protector
Summary: Spending so much on a Nokia N96 makes you want to protect that investment, invisibleSHIELD is know to many as the greatest protector available on the market. InvisibleSHIELD uses a very thin(0.2mm) "nano-memory" film that the military uses to protect helicopter blades and is extremely durable. Zagg owner of invisibleSHIELD has now released a protector for the Nokia N96 which will cover either the screen or the whole body. With the thickness of invisibleSHIELD you will never notice looking at the device or even pressing buttons and any scratch attempt will leave a small indent but invisibleSHIELD will heal itself in a matter of seconds.
Name: Animated SmS
Description: SmS Utility,
Summary: The digital age has brought new slang and with that in mind developers have been updating all these different types of applications to produce slang. Animated SmS is the latest in emotions and animated images for n96 users. The Application itself has great support and many download-able extras and because its an update to application you know that it will be updated regularly. Animated SmS works well and feels like the original nokia SmS Application and the Animations are nicely detailed, the end result is a very professional feeling Sms Tool.
Overview: What I like best about this application is that it has no icon in the applications menu its just a different option when creating a Sms (check screenshot). The application cost $9.99 and will only appeal to people actually use Animated images and emotions, a trial is available but it only last 2 days. With the amount of support e.g dedicated website I'm sure some will enjoy. Read more
Name: Cost control
Description: Sms, Call manager
Summary: The Nokia N96 is an expensive phone meaning that in a lot of cases owners have to get a tariff, with this phone most tariffs have plenty of Call and Sms credit even so its good to keep track of your tariff. PBC Cost Control will count the amount of calls and texts you make, you can set the day your bill is payed and your quota of call and texts and it will warn you when your quota is up. Its a great idea and PBC-Mobile Group have done it well with its simple and easy to use UI.
Overview: It's a Great idea if you use your phone a lot then its information you really need to know unless you like spending money with out knowing. In fairness the information is easy to find out but its never going to warn you, so I'm a bit mixed because this cost $6.49 and has so many different names including "Monitoring Your Minutes&Texts Plan", "PBC_MonIncMT" and what PBC call it themselves "PBC-Cost Control". Chose what you want to call it yourself, anyway I'm mixed because it doesn't really do that much but if you have ever gone over your call quota then it would probably more than that. To help you decide there is a 7 day trial so check it out see if you need it. Read more
Name: Nokia Multi-scanner
Description: Text scanner
Summary: I have known this nokia application has been out for a while but I just thought it was more of a code reader like the one pre-installed on the N96. Nokia Multiscanner is a great analogue to digital converter and what it converts is text to well digital text i.e typed text. On its own it seems like it would only be useful to people who have to remember text or if you want to use text to send to someone. However if you take a step back and look there is so many little things you can do with Nokia Multiscanner, for one you could copy a book and get your phone to play it back or lets say you keep an address or even if you want to copy a wifi code from the bottom of the router. These are just a few ideas the potential is unlimited.
Name: skyfire 0.9
Description: Mobile, Web Browser
Summary: The nokia N96 has so many features that requires the internet but even so these symbian phones don't have the greatest web browser so here's a replacement. Skyfire is a great little web browser which is nice and fast with a lot of helpful links and button shortcuts. Normally when any N96 user asks me what web browser to use I tell them opera mini. With this update I think its got a step or two ahead, things like facebook and twitter have now at your home page as well as the latest news stories. The shear speed of it is worth checking out its still a bit slow but its fast enough not to annoy you.  The thing I think nokia n96 users will appreciate most is the integration to all other service like YouTube, hulu, BBC  news ect..
Overview: When I saw a new update for this I was hoping for some new experience while web browsing and in fairness I found it but its hard to say how good it is, it dose feel as free as any other web browser and it doesn't have the page switch that many people like. All in all great web browser I cant tell you which browser to use as it depends on how you use the Internet. I would advise anyone using a the N96 to try it out and see how they like it, it is free so you have no excuse.
Name: xdancer
Description: Useless fun, music box
Summary: Well its a slow day for new applications but this is one that is totally made for a bit of fun. Maybe if you have kids and trust them enough to hold your phone then I'm sure you'll download it. Xdance is an application developed by samir but its not one of his major application. I think he just created it for a friend so don't expect too much. Xdancer uses the accelerometer and depending on the position of the phone the little dancer moves to a different pose and the more and more that you move it plays a song.
Overview: This application is as useless as "lightsaber" but saying that the lightsaber was downloaded almost 1/4 of a million times so this could be the lightsaber for the n96. This application is so simple yet over the past day or so I have played with it about 20 times so try it. This application is free so there's no reason not to download it and I'm sure the creator would love the support.